What is thermal image scanning?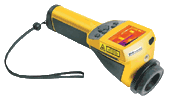 Thermal scanning is a non-intrusive method of locating potential problems in the home that you may be about to purchase. Discoveries made by thermal scanning may significantly affect your decision to purchase the property.

Thermal imaging uses infrared technology to detect very small differences in temperature. Every material has a unique thermal signature. When moisture, heat, or cold are introduced into the structure the thermal signature changes. With the help of an infrared  camera, we can see many things that simply are not detectable to the naked eye.
Cold areas behind walls, floors, or ceilings can indicate the presence of moisture, or lack of insulation and the infrared camera helps us diagnose these problems easily. Thermal imaging also easily detects overheating circuits, fuses, or circuit breakers. In some cases, flat roof leaks, or leakage under, or behind plumbing fixtures can also be found.
Featured throughout our website are thermal photos taken by our infrared camera, identifying significant problems found behind the walls.
Here are some actual photos of the camera in action:
Visible to the naked eye:
Visible to the infrared camera:

 
 
This photo shows an active, serious, water leak originating from a third floor washing machine: totally invisible to anyone without infrared technology.
 
 
Moisture problems in the wall above the window.
 
 
Missing insulation in a wall cavity
 
 
An overheating fuse.
 
 
An overheated circuit and wiring.
 
 
Moisture behind the tiles.